Hi!
I have a couple of news for you!
First, about this page: you saw these characters before (in the second chapter), but their appearance was different! Bonnie remained the same, but nuns got new outfits. I realised that this change is needed, bc the Abbey in Lilith's Word is not a real-world Christian abbey, but a fantasy one, with a made-up religion. I'm editing the pages for printing right now, so the old pages with these characters will be fixed and re-uploaded a bit later!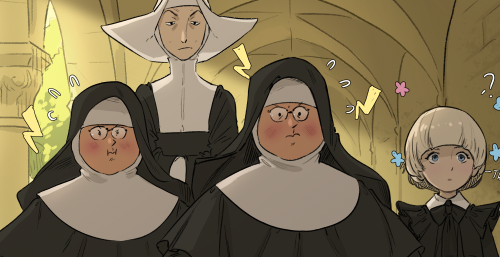 And one more: if you want to support me and this comic, there's finally a Patreon page for it! I'm doing my very first steps there, but I'll try my best to post something interesting about this comic, including drawing process, extra notes and concepts! The link will also be added to the site soon.